Symptom
Using a mobile computer's Summit Client Utility, when scanning for and selecting a wireless network, the following message appears:
scu
Unable to select a profile with WPA2 and TKIP.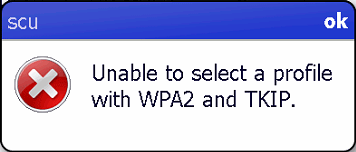 Cause
The router or wireless access point is not advertising its encryption properly, or the device is unable to interpret the encryption offer.
Resolution
Determine the required encryption type (if necessary, check the settings for the router or wireless access point), then create and configure a wireless profile manually, as described in the KB article in Related Pages below: "Windows Mobile/CE devices: How to connect to an unadvertised wifi network (SSID) via the Summit Client Utility (manual setup)".
This procedure has resolved a situation where the encryption was WPA2-AES with EAP Type MSCHAPv2.